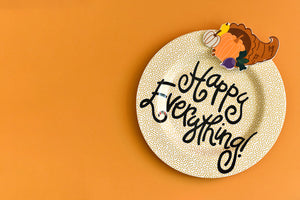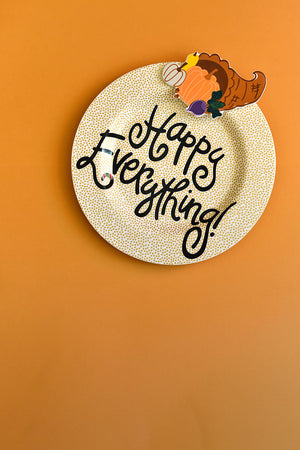 Gather 'round and give thanks in style. You'll be grateful for how quick and easy it is to decorate for the Thanksgiving season. 
Serve Up a Little or a Lot
Elevate your holiday hosting game (and your mood!) with our picture-perfect décor. Use Mini Platters for those omg-sooo-good sides and our Big Platters for your beautiful bird.
Add a Side of Thankful
Whether you've got a bit of homemade gravy or a heaping batch of creamy mashed potatoes, we've got you covered with our ceramic Big and Mini Bowls.
Sleek & Sudsy
Whether you're cleaning up after the big feast or want to bring some Happy! to your washroom for guests, you'll be grateful you grabbed a few of our Mini Soap Pumps.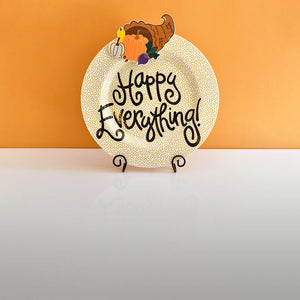 For Some Festive Fall Flair
Let our Gold Collection be the centerpiece of your holiday décor, adding extra fun to the festivities.
GOLD COLLECTION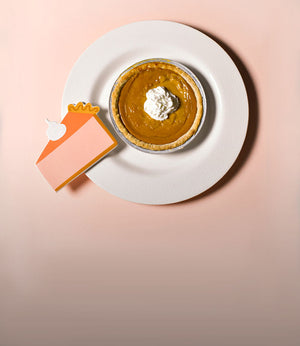 For a Bright Turkey Day
Set the table with our bright White Collection and let your cooking (and colorful Attachments) take the spotlight.
WHITE COLLECTION
Decorate for Thanksgiving
There are so many things to be thankful for, and Happy Everything! has all the Bases and Attachments you need to celebrate this wonderful occasion. Thanksgiving is a time to spend with friends, family, and loved ones, and we make it easy and fun to share a meal with people who are important to you.
Thanksgiving Décor Essentials
One of our favorite things about Happy Everything! is its versatility for decorating and entertaining. Whether you're looking to display your favorite memories, serve up a delicious Thanksgiving meal for all your friends and family, or host an intimate dinner, we have the interchangeable décor that will make any type of celebration one to remember. 
Oval Serving Platter for Thanksgiving
Our big serving platters are perfect for displaying your ham, turkey, and other main dishes during Thanksgiving meals. It makes a stylish centerpiece at your table and comfortably holds enough food to serve a crowd. Add your favorite Big Attachment, and you can make it fit right in with your Thanksgiving décor! 
Serving Thanksgiving Sides in Mini Bowls
Mini Bowls are a great way to serve delicious sides, desserts, after-dinner mints, and more in style. You can also use these bowls for holding silverware, decorative centerpieces, or ice. In addition, the mini version is a great way to match your favorite large platter or add another Attachment to your collection.
Mini Rectangle Platter for Appetizers
Another one of our must-haves for Thanksgiving is our Mini Platter. These serving essentials are great for appetizers, side dishes, or silverware on your holiday table. You can also add a few small pumpkins and make them a Thanksgiving decorative centerpiece.
Thanksgiving Home Décor
Thanks to our hook-and-loop fasteners, you can add some adorable Attachments to your favorite Bases for Thanksgiving to spice things up and delight your guests. Versatility is the name of the game with Happy Everything!, and our fans love how they can use our hook-and-loop fasteners to swap their favorite Attachments with ease to create an entirely new look and feel in their home. In addition to serving, our Bases and Attachments are great for Thanksgiving decorating. Use one of our platters or plate stands to display your Base throughout the year, and add a Big Wreath to your front door to welcome visitors as soon as they arrive.