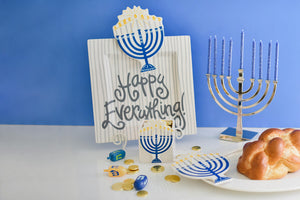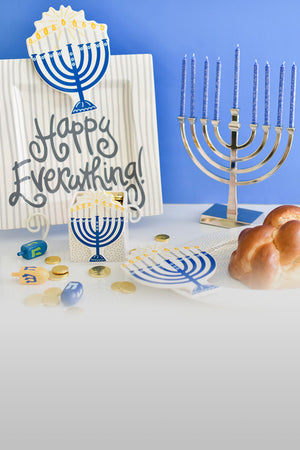 Celebrate the Festival of Lights with our Hanukkah décor that will illuminate the season with happy.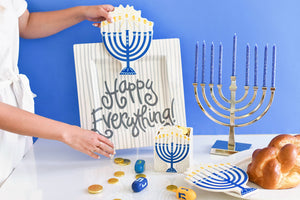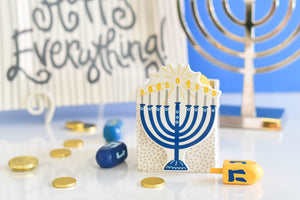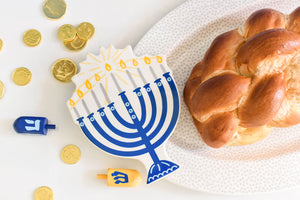 Decorate for Hanukkah
As the Festival of Lights approaches, Happy Everything! makes it easy to embrace the spirit of Hanukkah and fill your home with warmth, joy, and a sense of tradition. From fun Menorah Attachments to personalized gifts, Happy Everything! has just what you need to spread happy at your Hanukkah celebration. 
Beautiful Menorah Attachments
Light up the nights of Hanukkah with happy with the stunning Menorah Attachments from the Happy Everything! Hanukkah Shop. These vibrant creations are perfect for adding to your favorite Base, including our Round and Oval Platters, Serving Boards, Nesting Cubes, and more. With our interchangeable Hanukkah décor, decorating your happy holiday home is easy, fast, and fun.
Meaningful Table Settings
Serve up happy at your Hanukkah feasts with an elegant and meaningfully decorated table from Happy Everything! Set a beautiful table to enjoy your sufganiyot and latkes, and use our serving platters and bowls with your favorite Hanukkah Attachments. With our easy-to-use hook-and-loop fastener system for our interchangeable Bases and Attachments, it will be a snap to match the Bases throughout your home with your holiday table for a happy, coordinated look and feel. 
Serving Trays Displayed for Décor
Add extra happy to your table with Hanukkah-themed serving trays, and then place them on our plate stands and attach a Hanukkah Big or Mini Attachment to add a decorative touch to spread happy throughout your home when not in use. With our adorable Hannukah Attachments, the spirit of a happy Hanukkah is sure to surround every corner of your home.
Hanukkah Home Décor for Every Room
These interchangeable décor essentials offer the perfect happy accent to any room in your home. Add your favorite Attachment to a Big or Mini Base and make a wonderful centerpiece for your table, give these as one of your Hanukkah gifts to someone special, or add a beautiful plant. Our Nesting Cubes decked out with festive Attachments are great for every home, every room, and every occasion!  
Decorating your Home for Hanukkah
This Hanukkah, immerse yourself in happy and the beauty and traditions of the Festival of Lights with Happy Everything! From stunning menorah Attachments to personalized gifts perfect for those you love, Happy Everything! makes it easy to embrace the holiday spirit. Light up your home with happy and share precious moments with everyone around you.