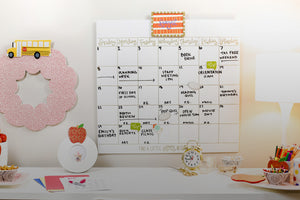 With our Dry Erase Collection
Picture-perfect Big Wreaths
for back to school pictures
Decorate for Back to School
Start the school year with an A+ with back-to-school décor from Happy Everything! Begin each day the happy way with cheerful reminders that this year is going to be the best year yet. From happy home décor to organizational solutions, your family will go to the head of the class for back-to-school must-haves that welcome the new school year with style.
Back to School
Spread happy throughout your home with back-to-school Attachments on your favorite Bases. Each colorful, attachable design was created to inspire smiles and happy moments each and every day. Serve up cookies as an after-school snack with the Apple Gold Big Attachment on your favorite Big Platter, creating a sweet reward for a good day of learning.
Manage the Days with Dry Erase Calendars
Get organized in style with our Dry Erase Calendars! Completely functional and totally attachable, this sophisticated solution for busy schedules pairs well with Attachments for any occasion that are easily converted with our hook-and-loop converter magnets to keep your busy schedule sorted. Keep track of sports schedules, family get-togethers, and other important dates with our magnetic message boards.
Porch Perfect
Make your front porch first-day photo-op ready with Big Wreaths easily decorated with back-to-school Big Attachments. School pictures look extra smart in a Mini Frame with a back-to-school Attachment as a thoughtful gift for doting grandparents. Place a Big Wreath on your front door with adorned back-to-school Attachments and make a picture-perfect statement to the neighborhood that your home is ready to go back to school!
Add Cheer to Your Home this Back-to-School Season
Brighten their day the happy way with back-to-school décor attached to our popular Bright Dot designs. From soap pumps for clean hands to Mini Platters of pancakes for breakfast, the cheerful colors and fabulous function of our Bright Dot décor make the ideal Base for back-to-school home decorations and a fun start to any day. Bring these bright polka dots to any space and you are sure to find some happy and spread it through the school day.