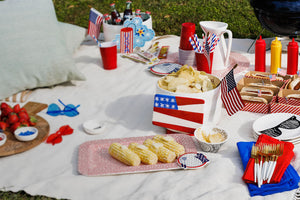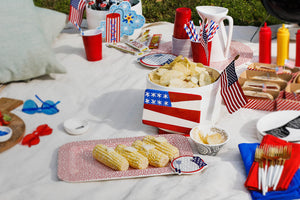 Get ready for the season of stars and stripes and decorate your home to show your patriotic pride.
The Best Spaces & Places to Decorate for Fourth of July
BAR
Keep things cool this Fourth of July with a set bar filled with happy and functional décor.
SHOP ALL
FRONT DOOR
Show off your love for the USA by hanging a Big Wreath on your front door to delight passers-by. Don't forget your favorite Fourth of July Big Attachment!
SHOP ALL
SERVING SPREAD
Upgrade your casual Fourth of July cook-outs and switch your plain serving pieces out for our happy and stylish Big & Mini Bases and Attachments.
SHOP ALL
ice, ice, baby
Ice down your favorite drinks in our best-selling Big & Mini Bowls. Known as one of our most multifunctional Base shapes, you can use our Big & Mini Bowls to bring happy to your next summer gathering and serve in style!
platter up!
Happily plate burger patties fresh off the grill on a Big Round Entertaining Platter or display your traditional flag cake on a Mini Rectangle Entertaining Platter to add a little happy to your Fourth of July celebration.
for serving snacks
Use your favorite Big and Mini Serving Boards to serve up a snack board and add a patriotic punch by adding your favorite Fourth of July Attachment.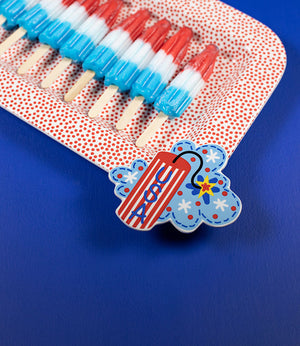 Get Real with Red
What's white and blue without red for the Fourth of July? Add some spark to your home décor this summer season and stock up on all your favorites from our Red Collection.
RED COLLECTION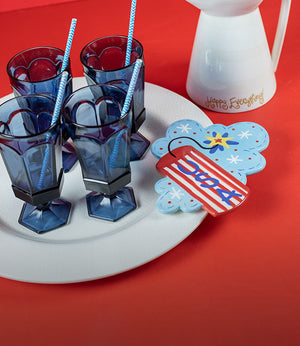 Summer Whites
Lighten up your Fourth of July spread with a clean palette using our White Collection. The perfect base color to showcase your most patriotic attachments!
WHITE COLLECTION
Decorate for Fourth of July
Find your happy this Fourth of July with patriotic décor from Happy Everything! Our interchangeable décor and functional serveware will make you the hero of the party from dawn's early light to the final fireworks. Bring the stars and stripes to your event from our Fourth of July Shop; we have just what you need.
Adding Fourth of July Décor to your Bar
Keep them coming back for a cool drink and festive décor with a bar set for fun. Our Flare Pitcher lets you serve up stylish sangrias alongside your favorite Big and Mini Bases adorned with festive Firecracker and Flag Attachments. Let freedom ring with designs that show your patriotic pride.
A Festive Front Door
Welcome your guests to the party with a Big Wreath on your front door. Attach your favorite Fourth of July Big Attachment, and let the party begin! From first happy impression to last, your guests will love your interchangeable décor and celebrate in style.
Fourth of July Serving Platters and Boards
Bring your burgers to the table on a Big Platter with a red, white, and blue Grill Top Big Attachment for a patriotic punch. Add a little happy to your party with a wood Serving Board and festive Watermelon attachment, styled with charcuterie or displaying your traditional flag cake. Our USA-themed décor is easily interchangeable from base to base, thanks to our hook-and-loop fastener system, making each occasion as unique as you are.
A Bowl for Everything
Fun and functional, our Big and Mini Bowls are the hit of every party. Ice-down drinks or serve-up snacks with these versatile Big Bowls, easily attachable with festive Big Attachments to make sure the patriotic theme adds sparks to all your spaces. Our versatile bowls are one of our most multi-functional Base shapes, able to bring happy to every summer get-together, from Fourth of July to beyond.
Decorating your Home for the Fourth
Our team designs the Fourth of July collection to bring happy to each and every day. Thoughtfully curated to coordinate with any décor, you'll find matching styles, neutral designs, and clean palettes to showcase your favorite patriotic attachments. Our interchangeable décor features Attachments that move easily from Base to Base, ensuring your favorite designs are on full display at every event.