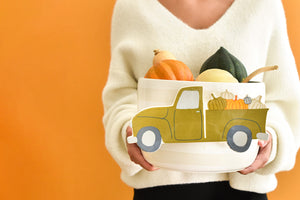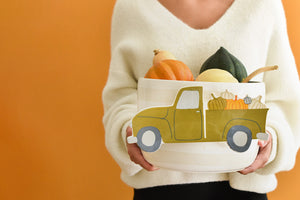 Grab a cider and a cozy sweater, decorate with your favorite Attachments, and add a few new ones for your collection, too.
The Best Spaces & Places to Decorate for Fall
KITCHEN COUNTERS
Simply fill our Big & Mini Bowls with some fresh Fall produce (like apples, cherries, and pears), add some seasonal Attachments, and voila!
SHOP NOW
ENTRYWAY
Welcome guests and family alike with a burst of happy right as they walk in, with our festive Platters and Attachments.
SHOP NOW
TABLE
Arrange your favorite vases with fall flowers and add a seasonal Attachment to bring a fresh look to your annual Thanksgiving feast and all season long.
SHOP NOW
serve up a seasonal spread
Use your favorite Big and Mini Serving Boards to serve up a Fall-inspired serving board and add a festive seasonal touch by adding your favorite seasonal Attachment.
happiness is in bloom
Fill a Big or Mini Vase with warm orange, red, and yellow blooms to bring Fall to life throughout your home.
freshen up for fall
Spread some happiness this season with our Big & Mini Platters. Adding a Fall Attachment is the perfect touch of décor for your table and home.
Bright White & Beautiful
Make your space feel bright, crisp and timeless with a white Base, while letting your Fall Attachments and happy accents shine.
WHITE COLLECTION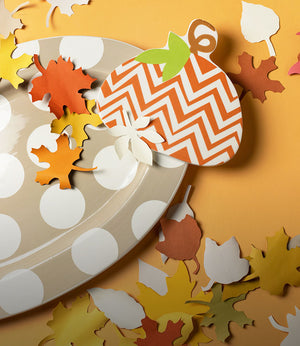 Simply Stylish Neutral Tones
For a fun and festive Fall, choose a neutral palette for your Base style and pair with colorful pops of happy this season.
NEUTRAL COLLECTION
Decorate for Fall
Fall in love with autumn thanks to the beautiful and festive collection of Bases and Attachments from the Happy Everything! Fall Shop. Choosing Happy Everything! for your fall home décor lets you spend more time doing what you love and less time worrying about creating a coordinated home. 
Favorite Fall Home Décor 
Let's start with the first thing you and your visitors see when they arrive at your home: your front door. Our Big Wreaths are the perfect place to begin your fall decorating. Using our hook-and-loop fasteners, you can mix and match Attachments for a cohesive style that carries throughout the inside of your home or go for something unique! The possibilities are truly endless.
Fall Serving Platters
Happy Everything! is about more than being functional. We also want our designs to serve a fun and decorative purpose in your home. Our Big and Mini Serving Platters are the perfect example of how we've created our styles to run double duty as interchangeable décor. You can hang your Bases on the wall, display them on the counter, or place them on a shelf with one of our plate and platter stands for a happy touch when they're not in use.
Themed Attachments for Fall Décor
Fall is one of our favorite seasons, and there are so many fun and festive Attachments you can pair with your favorite Bases using our hook-and-loop fasteners. Our fall-themed interchangeable Attachments make decorating for fall as easy as pumpkin pie!
Favorite Fall Drinks
If you enjoy fall, you may love pumpkin spice. Whether you can't get enough of it or you prefer a simple apple cider, our Happy Everything! Mugs are a great way to sip your favorite fall beverage, thanks to their happy designs and large comfortable handles. Pair our collections for a coordinated look that you can celebrate year-round by rotating your Attachments for easy home décor.