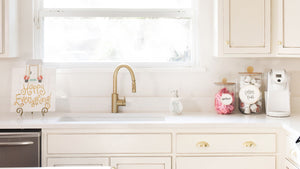 say hello to your new happy place
Decorate the spaces within the heart of your home with our oh-so-functional interchangeable Bases and Attachments.
FESTIVE KITCHEN DÉCOR & MORE 
Place a Big and Mini Square Platter on a coordinating plate stand for year-round happy décor that's ready for your next occasion. Simply add your favorite Attachment for easy interchangeable seasonal décor, and that's it!
Our Big and Mini Bowls are just the thing you need for storing your fresh produce and farmer's market finds! Add a bit of happy to your kitchen with festive or seasonal Attachments with our easy interchangeable décor.
Place your favorite coffee essentials in our stylish and functional Big and Mini Glass Jar Bases for an organized kitchen countertop with a touch of happy décor.
Bring style to your kitchen sink with our Mini Soap Pumps that are ready to make sure you have everything you need to keep things squeaky clean!
one base , sooo many options  
Use a Marble Board as a stylish and modern décor piece or to corral your kitchen essentials on your island or countertop.
Place a Mini Oval Vase by the stove to house all your favorite cooking utensils and must-haves for preparing your best-known dish.
Gather your most-used cooking and serving tools on a Mini Wooden Board for an organized yet stylish presentation in your kitchen.
Choose a Base that fits your space.
Whether you're adding a soap pump near the sink or displaying a serving platter, you can add a little happy to every corner of your kitchen. Each Base features a hook-and-loop fastener to easily add your Attachment. With more than 70 Attachment designs, you'll find one that's perfect for every occasion. Change them out for the upcoming season, holiday, or a family gathering.
Spread happy in your home with our functional kitchen décor.