The Happiest Holiday Gift Guide
holiday gift guide
Find the gifts to spread happy throughout the holidays! Our Gift Guide has something for everyone on your list.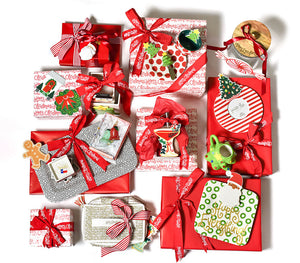 GIFTS FOR COLLECTORS
FOR THE NOT-YET COLLECTOR 
Happy begins with Happy Everything! Start their collection with grab-and-go gifts and watch the happy obsession grow!
SHOP NOW
FOR THE NEW COLLECTOR
Feed their happy this holiday season with home décor that has them ready for every occasion. There is no such thing as too many interchangeable designs!
SHOP NOW
FOR THE ULTIMATE COLLECTOR
Spread happy in the best ways with cheerful designs that bring smiles to any room. The Ultimate Collector has a Base for every Attachment and an Attachment for every Base.
SHOP NOW
stocking stuffers
Spread happy with gifts that fit in a stocking! These stocking stuffers come in small packages that are sure to bring big smiles.
personalized gifts
Add a touch of happy to any occasion with personalized gifts. Personalization makes a moment last forever, so add a name, initials, or monogram and spread happy.
gifts for her
Find the perfect gift and spread happy with stylish designs that brighten their day. Fun and functional home décor is a gift that keeps giving every day of the year!
gifts that give back
Choose happy designs that inspire change in our collection of gifts that give back. They'll love the stylish décor and know that part of the purchase helps those who need it most.
last minute gifts
Be ready to spread happy in a pinch with delightful designs for every occasion. Keep functional and stylish gifts on hand for last-minute gifts.
for anyone on your list
Give them the gift of choice and make every occasion special with eGift cards. They can choose something they love, and you'll have less stress – everyone's happy!
the gift wrap
Add the final touch and create a picture-perfect present with festive gift wrap and gift bags. Wrap the season with style and sparkles, making each gift a little more happy.
Our 2023 Gift Guide has all the gifts you need without the holiday hassle! Make life a little happier for everyone on your gift list with functional styles that brighten up any space. From storage solutions to serveware and interchangeable designs for every occasion, our Gift Guide has everything you need to delight anyone, from the Ultimate Collector to the host of a last-minute dinner.

Infuse your perfect gift with thoughtfulness by adding personalization and celebrate a moment as special as they are for a lifetime. Whether you choose playful patterns or neutral palettes, our eye-catching home décor is created to seamlessly blend in any space and bring happy to every home. With the grab-and-go convenience of stylish presents for any price point, you will be ready for every occasion and prepared for any surprise!

With everything you need, from eGift cards to putting a wrap on the perfect present, Happy Everything! is the holiday gift destination that makes your holidays even more happy.